Champaign Central High School
Friday, April 12 & Saturday, April 13, 2019
Come out for a relaxing evening (or two!) at Champaign Central's 50th Annual Jazz Fest. We're planning for a big turn out for this very special occasion!
You'll hear great Jazz from many local middle and high school big bands, combos, the CHS Alumni band, and a special guest, drummer Jeff Hamilton! Enjoy dinner, dessert, or snacks from our Jazz Cafe.
Admission at the door is $5 per person, with a family maximum of $20.
Your help in making this event a great success is greatly appreciated! Show your support for the Jazz Bands of Central High School by placing an ad in the Jazz Fest program! Parents or students can send a personalized Shout Out! Place an ad for your business or organization! PROGRAM AD FORM
Corporate and family sponsorships are available for Central High School's jazz program. SPONSORSHIP INFORMATION
We also need volunteers for event set-up (Thursday and Friday), event duties (Friday and Saturday), including help with decorating, concessions, ticket sales, band hosts and of course, tear-down and clean-up (Saturday night). VOLUNTEER SIGN-UP FORM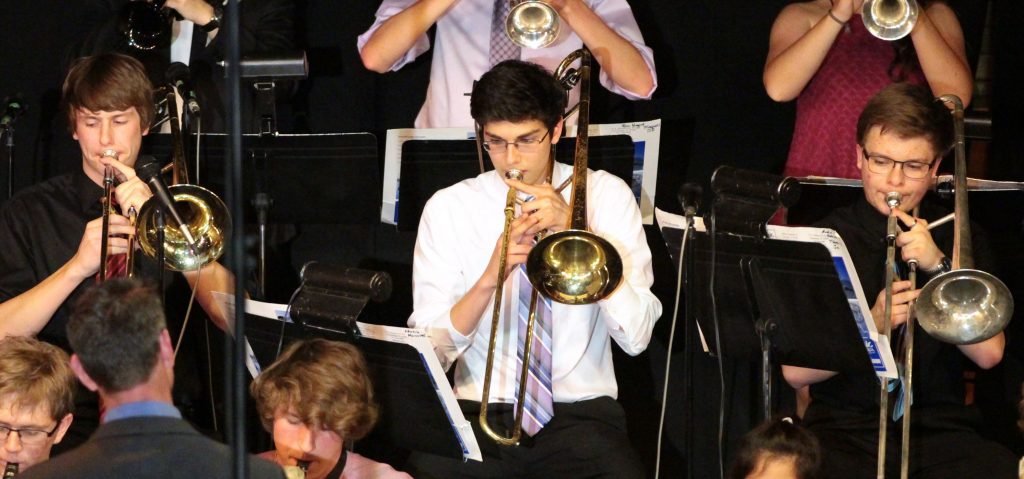 Thank you to our 2019 Sponsors!
John Coltrane Level Sponsors: The Erlinger Family, The Kuntz Family, Law Firm of Meyer Capel, The Morgan Family, Sagamore-Venture and The Bannon Family
Miles Davis Level Sponsors: Smith/Burgett Architects, The Wurl Family
Buddy Rich Level Sponsors: Ya-Hsin Chen, The Kiely Family
[siteorigin_widget class="SiteOrigin_Widget_Headline_Widget"][/siteorigin_widget]
Friday, April 12, Combes Gym
5:30 p.m. Centennial High School Jazz Band 2, Chris Fosnot
6:00 p.m. Central High School Lab Band, John Currey
6:30 p.m. Franklin Middle School Jazz Band, Michael Brown
7:00 p.m. Urbana Middle School, Stacey Peterik
7:30 p.m. Central High School Stage Band, Nick Schulze
8:00 p.m. Centennial High School Jazz Ensemble 1, Michael Allen
8:30 p.m. Urbana High School, Stacey Peterik
9:00 p.m. Central High School Jazz Ensemble, John Currey
Special Guest, drummer Jeff Hamilton
Friday, April 12, Seely Hall
5:45 p.m. Hubbard Combo
6:15 p.m. Centennial Combo
6:45 p.m. Morgan Combo
7:15 p.m. Franklin Sax combo
8:15 p.m. Currey Combo
Saturday, April 13, Combes Gym
4:00 p.m. Clinic with Guest Artist, Jeff Hamilton, drums
5:00 p.m. Edison Middle School Jazz Lab Band, Allan Branch
5:15 p.m. Jefferson Middle School Jazz 2, Robin Heltsley
5:40 p.m. Central High School Lab Band, John Currey
6:05 p.m. Edison Middle School Jazz Band, Kimberly Branch
6:30 p.m. Jefferson Middle School Jazz 1, Robin Heltsley
6:55 p.m. Central High School Stage Band, Nick Schulze
7:20 p.m. Edison Middle School Jazz Ensemble, Kimberly Branch
7:45 p.m. Central High School Alumni Band, John Currey and Tom Birkner
Special Guest, drummer Jeff Hamilton
9:00 p.m. Central High School Jazz Ensemble, John Currey
Special Guest, drummer Jeff Hamilton
Saturday, April 13, Seely Hall
5:20 p.m. Currey Combo
6:00 p.m. Morgan Combo
6:30 p.m. Hubbard Combo
7:15 p.m. Edison Combo